About Twinkle Bajpai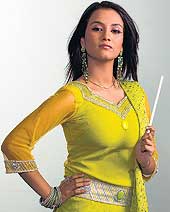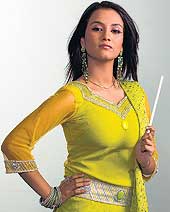 Twinkle Bajpai promises to be back with a bang. Original laxmi of 'Ghar ki laxmi betiyaan' was completely off the light after being replaced in the show. "I was doing stage shows all this while" informs twinkle who made her first appearance in a singing reality show.
Now question arises how is she coming back? "It will be out in couple of months but I assure you that it has something to do with my singing" she hints.
The character portrayal of the bold and daring daughter Lakshmi is essayed by Twinkle Bajpai, one of the top eight finalists of the musical talent hunt 'Sa Re Ga Ma 2005'. She was also regarded as the most versatile singer among the girl toppers. Her singing prowess was admired by one and all in the show.

She and her partner Vishwaas won the judge's choice award. Soon after they were also selected to host the 'Middle East Antakshari' in Dubai and she was much applauded for her presentation skills. She later also sang in the music album released by the classical singing sensation Ismail Durbar titled 'Rasiya Saajan'. It was soon after this that Zee Television recommended her for the show 'Betiyaan'. After some auditions they selected her as the main lead, which was quite unexpected to her, as she did not know anything about acting. Her look has also been very well accepted in this soap. She has been wearing a belt over her kurta and that is now being sold as designers wear in one of the famous shopping malls in the tinsel town.

Twinkle Bajpai Twinkle Bajpai claims that she enjoyed acting but it was never her dream to become an actress. When the Zee people came up to her with the offer she decided to try her luck in acting. She claims that her character was well accepted by the audience. She also remarked that she has been able to learn a lot about acting from her directors, co-actors and it was all on the grounds of the shooting sets. Her parents are also very happy, as they have always been there for her and whatever she has done in life. It is because of them that she has been able to achieve so much in life. She is sure to continue both with acting and singing in the future as well. She is also looking forward to movies. But she is not ready to don attires, which are too revealing. She would in fact likes to be like Rani Mukherjee, the typical girl-next door. She wants to sport that kind of image and be popular.

This innocent looking actress is very satisfied the way her career is shaping up. She is earning enough to make a decent living and claims herself to be lucky enough not to come in terms with the casting couch yet. In television too she does not want to portray an image, which will be much older than her actual self. If her acting career does not go too well in she has her singing career also which she wants to shape up in a proper manner. She would also launch herself in a new album soon.

Ghar Ki Lakshmi Betiyaan This sweet looking actress has extreme faith in the powers of the Almighty. Everyday she wakes up; she thanks God for everything she has given her. She also thanks Zee for giving her a complete makeover. On the personal front also she shares a personal liking for someone special but is not ready to disclose who it is until and unless her parents approve of her decision. She also thinks she should settle down first in her career to give her 100% to her relationship. She accepts herself partially as of those kinds who want to get done with career before embarking on the domestic route. Her fans sincerely wish that she would scale great height of success in the coming times.