معلومات عن سنا مهرة بطلة مسلسل هندي انت وانا اسمها حقيقي Sampada Vaze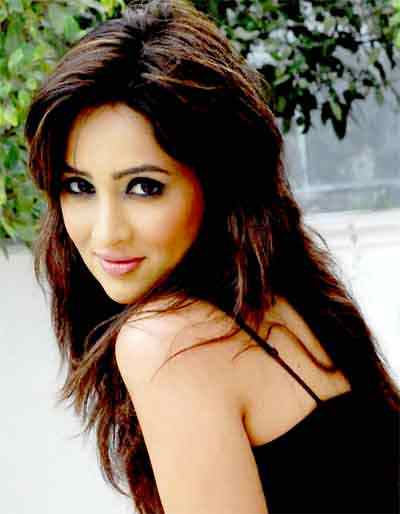 Q. What qualities would you look for in your man? A. I get along invariably with men. I see how they talk and whether they know what they are talking. He should be well spoken and well informed, aware of the rest of the world as well. I have a great admiration and respect for self mad man. He should have respect for women and most importantly for my family.
"I don't mind wearing skimpy clothes....."





The cute Sampada Vaze who currently plays the lead in SET's Rishton Ki Dor started off her career on the tube with an unusual soap Pyar Ki Kashti Mein on Star One. But very few know that she has been an established commercial model since the past three years - her important campaigns being Pears, Ddamas jewellery, Emami and Sunsilk

And thus being a model this chic has an uber fashion style. In a chat with Anil Merani , this pretty actor happily shares her gyaan on what's in, what's out, what looks cool on her and what doesn't!




"I am a short dress person"

Fashion funda
You will never see me in something which does not suit me. My mantra is to under play, for, I believe, it's better to be subtly dressed rather than being overdressed or loud.

Party time
I am a short dress person. I love to set the party on fire with red, pink, green or gold dresses. Since I have no problems with dressing hot. I sometimes experiment either with plunging necklines or a real deep back to add oomph to my short outfit. Beside dresses I also love harem pants and capris.

Denim digger
You can never separate me from my denims. They are the most comfortable piece of bottom that can be teamed with just about any top, like nowadays a lot of tunic tops are in, so I club them with my denims.

Skirt craze
I love both the shorter and the longer variety. For day wear, I prefer long wrap around skirts, the Priety Zinta types. While for a party, I might dare to wear a tight short number. But then I will not go overboard and wear a wild top, for then it will appear that I'm begging for attention, and that's a sure no no.

Traditional avataar
I love the modern saree for I have received maximum compliments whenever I have hit the party circuit in this eternal Indian outfit. I dig for bright colourful sarees (orange, pink yellow) teamed with hep blouses - be it a tube, a halter or a spaghetti. Being a traditional girl, I don't wish to play around with the drape. Why mess with something which is already perfect ? Unlike other PYT who prefer pre- pleated or two kali saree, I prefer to drape my own sarees, I even love to wear the pastel churidar kurta or salwars. Team a long kurti with my denims and I am ready to go. I would love to try on the patiala salwar, but unfortunately they are out of fashion. There is just one hassle with these suits, what to do with duppata or the chunni!





"I am a self proclaimed compulsive shopper"

Accessories
I simply love boots and have a huge collection which is properly coordinated with my wardrobe. I can splurge huge amounts on my footwear. Once I blew five grands on a pair of green boots, which I wore on a Rs. 500 dress! People laugh at me and comment how can you spend so much on shoes and then walk on it! I even love jewellery - specially necklaces (chokers and glass beads). I prefer fashion jewelry rather then real ones for if misplace them I will cry for the rest of my life. For sarees, I borrow my mum's Indian jewellery, which looks really hep on me.

Best costume
It's my own outfit which I wore for my music video, Aksar. It was a sexy short denim dress teamed with a red shirt. The costumes of my debut TV show Pyar Ki Kashti Mein were also cute.

Fashion faux pas
Shucks! That happened really early in my career. Once during a photo shoot, the colour of my undergarments did not my match my clothes, and they were exposed in the lighting!

Retail Therapy
I am a compulsive shopper. Whenever I get a chance, I go shopping. I have shopped stuff from different parts of the India and abroad during my shoots.

Skin Show
I don't mind wearing skimpy clothes off screen. Rather then bothering about whether any outfit shows skin or not, I am more interested in knowing whether I look fat in it. If not, I am game. What's more important is that it should suit my personality and body type. Even my parents have no qualms with my dressing style, although my grand mom has some reservations. Once when she saw my real short top hanging on the drying line, she quipped whether this is a piece of clothing or just a rag!
Sampada Vaze ready to grab a mike
The pretty damsel Sampada Vaze who is seen in Hum Tum on Zee Next has now moved on to take up a bigger challenge in her career!
Sampada Vaze, is ready to grab a mike, no she isnt singing!
The actress will now be seen anchoring the newest reality show on SAB, Comedy Ka King Kaun which will be judged by the ace comedian, Jaspal Bhatti. The reality show which will have contestants from India and Pakistan competing for the coveted Comedy King title will see Sampada as the sole anchor.
Sampada whose Zee Next episodic is getting terminated very soon says, "I hardly felt I got a break in between. But this show is a big challenge for me. Its the first time I will be anchoring. Ive always been interested in anchoring. The spontaneity and presence of mind required in hosting a show is not an easy task. And although Im a little nervous, Im quite positive and absolutely looking forward to it as well".