الحقيقي Ram Kapoorبطال مسلسل الهندي الوعد اسمه
'My next show will have a leaner Ram Kapoor'
Ram Kapoor is the newest contestant to bow out of Sony Entertainment Television's Jhalak Dikhhla Jaa. The actor found himself among the bottom two with controversy queen Gauhar Khan [Images]. When it came to the dance off round, Ram could not do justice to his act, thus leading to his elimination. He talks to Rajul Hegde about his dancing skills:
Did you expect to be eliminated?
I knew it would happen as the others are better dancers than me. I don't regret my elimination because I have some projects lined up.
Like what?
I can talk about them only after a month.
How did your family react to your elimination?
They expected my elimination, so they were fine with it.
Everyone thought you were the most entertaining contestant on the show. Will you miss Jhalak?
I am a big prankster and I know everyone loved it. But I had to get eliminated, right?
Jhalak was fantastic and I enjoyed it more than I expected.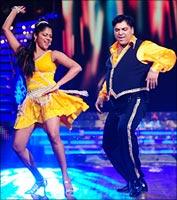 Wasn't your weight a big concern on the show?
The next show I sign will have a lean Ram Kapoor, unlike Jai Walia. Marischa [choreographer] is very sweet. She would work out moves, which I don't find difficult to carry off or feel awkward about.
So how many kilos did you lose after coming on the show?
I have lost six or seven kilos.
So will you continue dancing?
Yes. I have already started rehearsing for the wild card round. After the show, I will continue with my regular workouts.
Has your daughter Sia seen you dancing?
Yes. Sia tries to imitate me all the time. She insists that we sit in the drawing room and watch her instead.
Who do you think deserved to win?
Karan Singh Grover. He's a hardworking and a talented dancer.
There was quite bit of Dostana [Images] happening between Karan and you on the show.
Karan and I are quite alike. That's the reason we gelled so well. We did it for fun and my family knows that.
Did you miss your kids especially your newborn during the rehearsals?
Yes. But this is a part and parcel of any profession. All of us have to slog if we want to give our families a certain lifestyle.
When you participated in the show, you said you wanted to get out of the stern image of Jai Walia (your character in Kasamh Se). Have you succeeded?
Well, I have got a lot of fan mails, who are happy to see a different side to me. That says it all.
So what is the real Ram like?
Obviously, like the way you saw on Jhalak Dikhhla Jaa.
Did Ekta Kapoor [Images] [Balaji Telefilms [Get Quote] chief] offer you anything after Kasamh Se wrapped up?
There are talks for a couple of shows but I am in no rush. I would like to take my family on a long holiday after Jhalak, get back into shape and then start working for a new show.